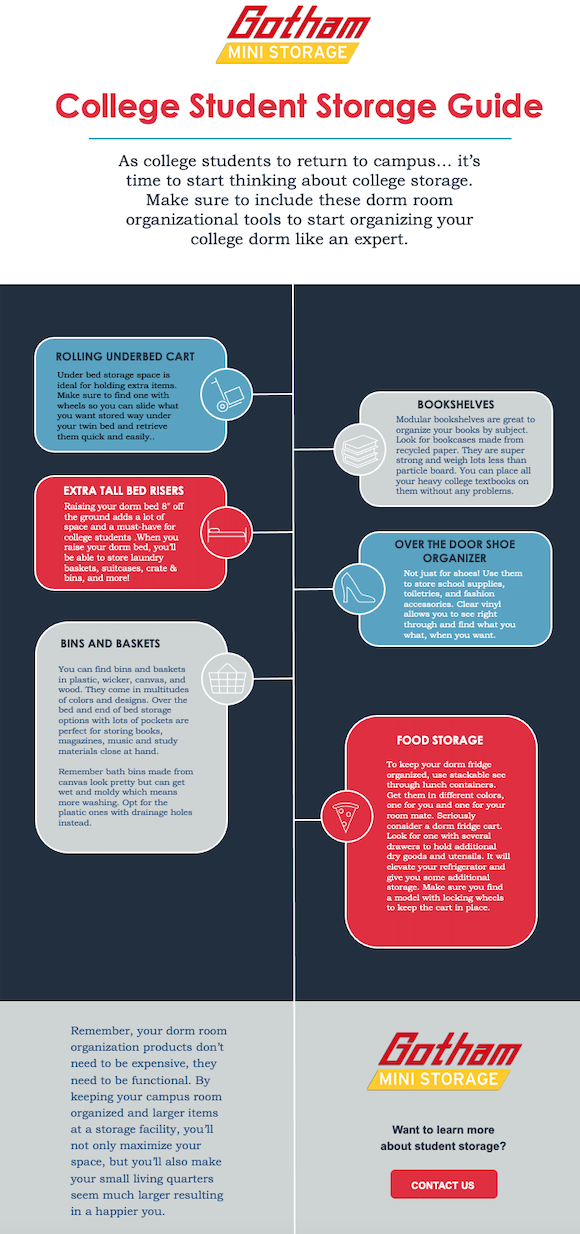 When summer break is over and it's time for college students to return to school then it's also time to start thinking about college storage. College dorms and college apartments are not known for their spaciousness. They can become easily cluttered when you bring your personal stuff back to college. Gotham Mini Storage is the perfect self storage option for any Manhattan college student. Let the storage experts at Gotham Mini Storage help you declutter your dorm or apartment by storing your larger items in one of our Gotham Mini storage lockers.
Our Gotham Mini Storage location is conveniently located just minutes from major colleges and universities in Manhattan, including the Fashion Institute of Technology, Baruch College, Berkeley College and John Jay College of Criminal Justice . 
With month-to-month leases and locations close to your Manhattan college campus we can accommodate you each semester no matter how your storage needs change. 
Storage unit sizes, ranging from 4′ x 4′ x 4′ to 10′ x 30'—Gotham Mini Storage facility can accommodate your college student storage needs for all budgets

Year-round storage you can use daily

Small car and motorcycle storage options

Storage when studying overseas

Easy payment options: major credit cards accepted, automatic payment by credit card, prepayments and online payments

Storage boxes and moving supplies available on site
 Student Storage in Manhattan: 
Conveniently located at 501 10th Avenue at 39th Street in Manhattan, Gotham Mini Storage is second home to lots of college students. Staying organized and minimizing the amount of clutter in your dorm is the best way to make your dorm feel as comfortable as possible.
Gotham Mini Storage's college student storage guide can help you stay organized and help with your college storage needs by outlining how to fit a lot into a little space and keeping what you do have stored in a systematic and controlled manner. What you can't fit comfortably into your limited dorm space, should be stored at a college storage unit in a convenient location to your Manhattan college.
Make sure to include these dorm room organizational tools. In fact, don't move in without them!
Under bed storage space is ideal for holding extra blankets, towels, sheets, seasonal clothes, study supplies, accessories and even a stash of food. Make sure to find one with wheels so you can slide what you want stored way under your twin bed and retrieve them quick and easily.
Allows you to get almost 8″ of extra storage space. Raising your dorm bed 8″ off the ground adds a lot of space and a must-have for college students not lofting or bunking their beds. When you raise your dorm bed you'll be able to store laundry baskets, suitcases, crate & bins, and plastic tubs.
Modular bookshelves are great to organize your books by class and keep everything in its own spot. Look for college bookcases made from recycled paper. They are super strong and weigh lots less than particle board. These shelves are so strong you can place all your heavy college textbooks on them without any problems. Place them on your desk, floor or at the end of your twin bed.
Over the Door Shoe Organizer 
Not just for shoes! Use them to store school supplies, toiletries, and fashion accessories. Clear vinyl allows you to see right through and find what you want, when you want.
You can find bins and baskets in plastic, wicker, canvas, and wood. They come in multitudes of colors and designs. Over the bed and end of bed storage options with lots of pockets are perfect for storing books, magazines, music and study materials close at hand. Remember bath bins made from canvas look pretty, but can get wet and moldy which means more washing. Opt for the plastic ones with drainage holes instead.
To keep your dorm fridge organized, use stackable see through lunch containers. Get them in different colors, one for you and one for your room mate. Seriously consider a dorm fridge cart. Look for one with several drawers to hold additional dry goods and utensils. It will elevate your refrigerator and give you some additional storage. Make sure you find a model with locking wheels to keep the cart in place.
Once you have your dorm organized and have found all these places for hidden storage, you'll still have to consider what to do with your larger items, especially if you don't have family in the Manhattan area. Use Gotham Mini Storage as your 'home base' to store bigger items like bicycle, ski equipment, hobby supplies, kayak, snowboards, surf board, and sports equipment. These non-essential items take up plenty of room and can easily and inexpensively be stored using one of Gotham Mini Storage's storage lockers within walking distance to your dorm. You'll have daily access to them, return them as needed and can consider it an extension of your dorm.
Remember, your dorm room organization products don't need to be expensive, just as long as they are functional and get the job done. By keeping your campus room organized and larger items at a storage facility, you'll not only maximize your space, but you'll also make your small living quarters seem much larger resulting in a happier you.