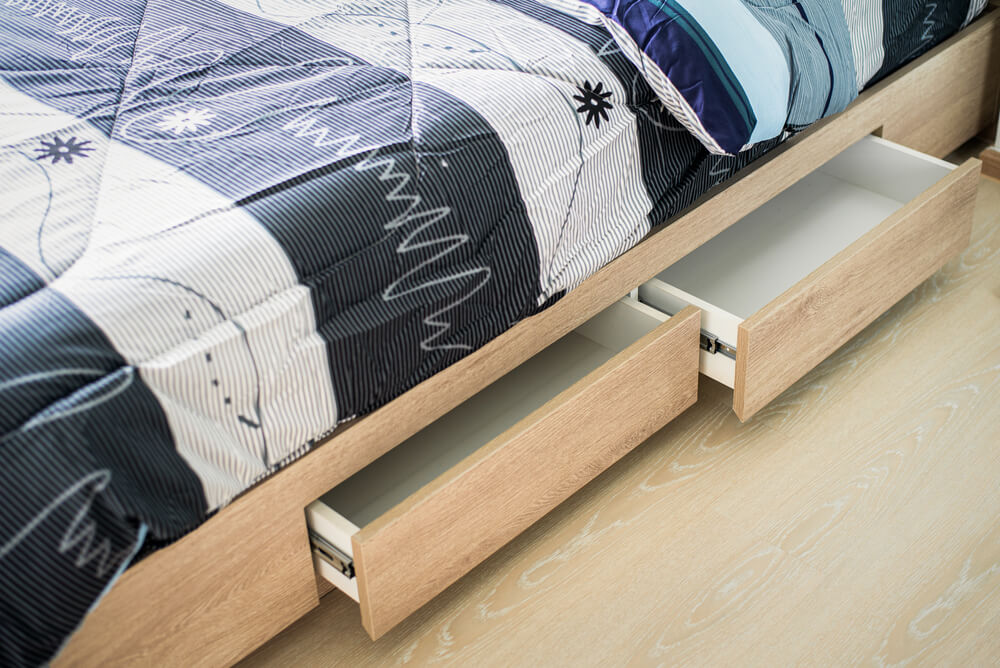 Whether you're in need of the extra real estate or you're a minimalist looking for a cleaner aesthetic in your home, there's a wealth of potential storage space hidden under your bed. While you could buy a traditional captain's bed or some standard pull out drawers, there are many other unique options that can add some fun to your storage solutions. Here are our top six.
1. Roll with It
Dragging out full and heavy drawers from under your bed (and shoving them back when you're done) can be exhausting and annoying. Give your back a break and your DIY skills some exercise by attaching caster wheels to your storage solutions.
2. Upcycle Old Drawers
If you're on a budget or just a fan of repurposing items, old drawers make great under bed storage solutions. Whether they're from furniture you're getting rid of or you find them on the curb or at a garage sale, they're your fast and easy storage solution–just remember to thoroughly clean them first!
3. Put it on a Platform
Bed don't have to be close to the ground. In fact, platform beds are making a huge comeback–but they can be pricey. You can hack your way to a platform bed by simply placing your box spring and mattress on top of a dresser, cabinet, or other storage solution.
4. Get Lazy
Lazy Susans aren't just for the kitchen anymore. Using a Lazy Susan for under bed storage eliminates the need to constantly pull out and push back drawers or totes and is especially useful for beds pushed against walls with limited access.
5. Meet Murphy
You don't need to professionally install an actual Murphy bed to enjoy certain aspects of its conveniences. You can install hinges on your bed that will enable you to lift it and expose the storage area underneath it for quick access.
6. Get Your Wires Crossed
For a mix of practicality and design flair, opt for wire baskets instead of traditional drawers or totes. This may limit the variety of items you can store, but for many it's a matter of design over function.
Have you made the most of your storage options under your bed but still need more room? Trust the experts at Gotham Mini Storage. We're the premier Manhattan mini storage location offering affordable prices, and 24/7 security, for the most convenient storage solution.