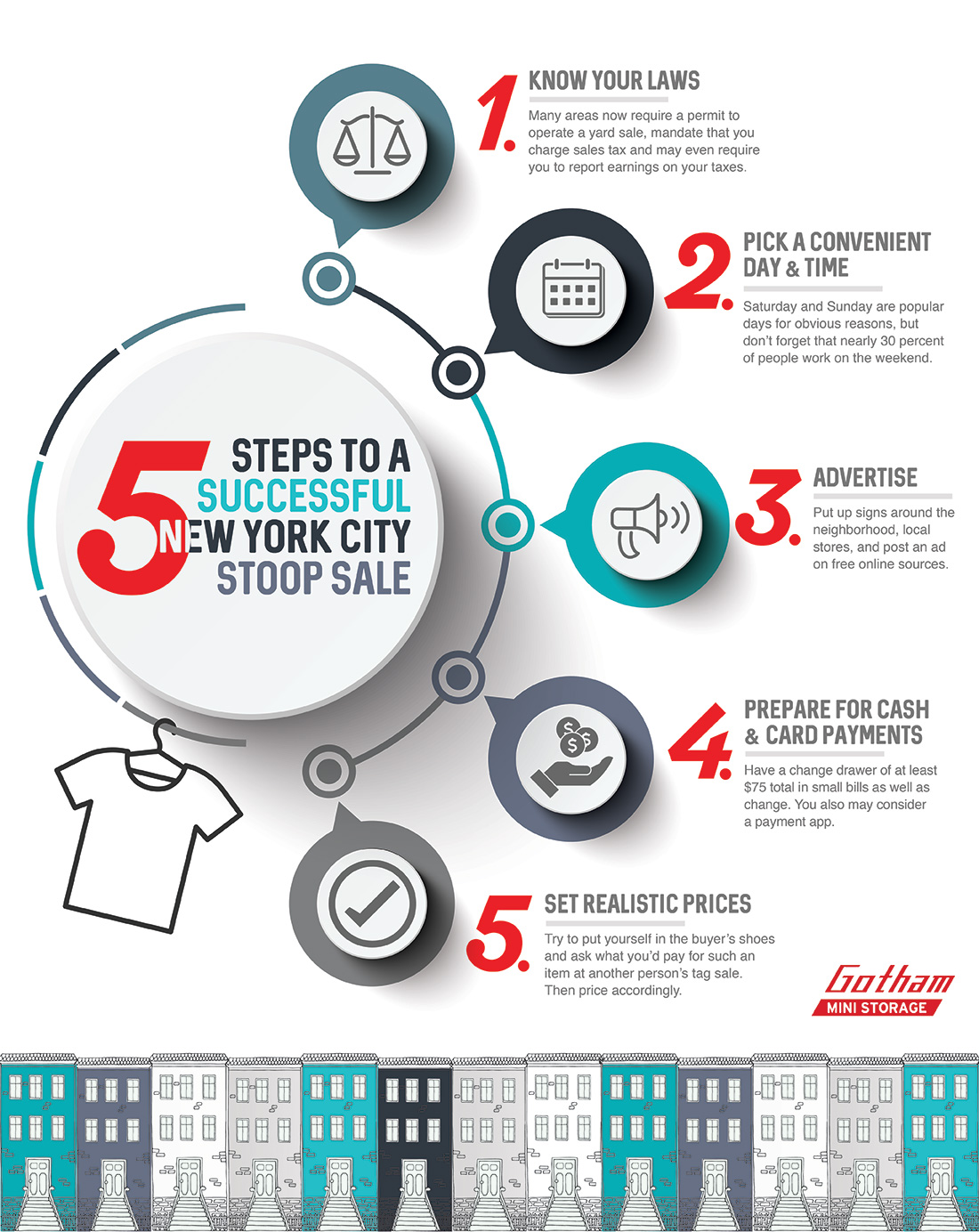 With the long winter behind us and warmer days ahead, the next endeavor many of us tackle on our to-do list is an annual favorite: spring cleaning. But what do you do with all of things you don't have room to keep? Host a yard sale or stoop sale, where you can find them a new home—and find you some extra cash to kick your summer off right! Yard sales are a great way to declutter your apartment, give your neighbors great deals on your gently used items, and take a real inventory of what you can—and can't—live without. Though the prep for your stoop sale might be minimal, for success, you need to take the time to do it right.
1. Know your laws. 
Many areas now require a permit to operate a yard sale, mandate that you charge sales tax and may even require you to report earnings on your taxes. While you may be tempted to roll the dice because you don't think there's a likelihood you would get caught, ask yourself if the amount of money your stoop sale may earn would be worth a potential ticket. It's always better to stay on the safe side, so see if your city is one of these areas or you could face some hefty fines. Fortunately, NYC dwellers don't need a permit for a pop-up yard sale.
2. Pick a convenient day and time. 
Saturday and Sunday are popular days for obvious reasons, but don't forget that nearly 30 percent of people work on the weekend. An early evening sale on a weekday may draw more people than you think. For weekend sales, there are pros to both starting early or waiting until late afternoon. A morning sale means it won't be too hot outside, but it might attract early birds who think nothing of ringing your buzzer at 6 a.m. Afternoon sales mean more heat, but can also mean more foot traffic, as more people are up and out and about.
3. Advertise! 
It's a basic understanding that, with the exception of neighbors or people who are walking or driving by, people won't come to your yard sale if they don't know you're having one. While the tried-and-true method of putting up signs around the neighborhood and at local stores is still a solid way to draw crowds, it's not the only one. Post an ad with at least three online sources, such as Craigslist, Yard Sale Search, Garage Sale Hunter, and Garage Sale Source.
4. Prepare for cash and card payments. 
"Cash only" can be the kiss of death in a time when only 24 percent of Americans predominantly use cash. That's not to say you should ignore that 24 percent, though. You don't want to miss out of sales because someone pays cash, but you can't make change. The ideal way to cater all buyers is to have a change drawer of at least $75 total in 10s, 5s, and 1s, as well as $20 in quarters (just make sure your prices are either full dollar amounts or in $0.25 increments). And for the 76 percent of credit and debit card users, you may want to consider a payment app like Venmo, PayPal or Square Cash for secure, instant transactions.
5. Set realistic prices. 
The purpose of a stoop sale is to declutter your apartment while earning some extra cash. But just because an item has sentimental value  or cost a lot when you originally purchased it doesn't mean people will be willing to hand over top dollar. Try to put yourself in the buyer's shoes and ask what you'd pay for such an item at another person's tag sale. Then price accordingly. And be prepared for haggling and bargaining. For any pieces that may have collector's value or other hidden value, take those items to a professional to be appraised; otherwise, you might part with a mirror worth $25,000 for a mere $2!
Once you've held your successfully coordinated stoop sale, donate what you don't want to a local charity. Still squeezed for space? Contact the storage experts at Manhattan's mini storage provider—Gotham Mini Storage, and move your belongings into a secure, climate-controlled unit today.