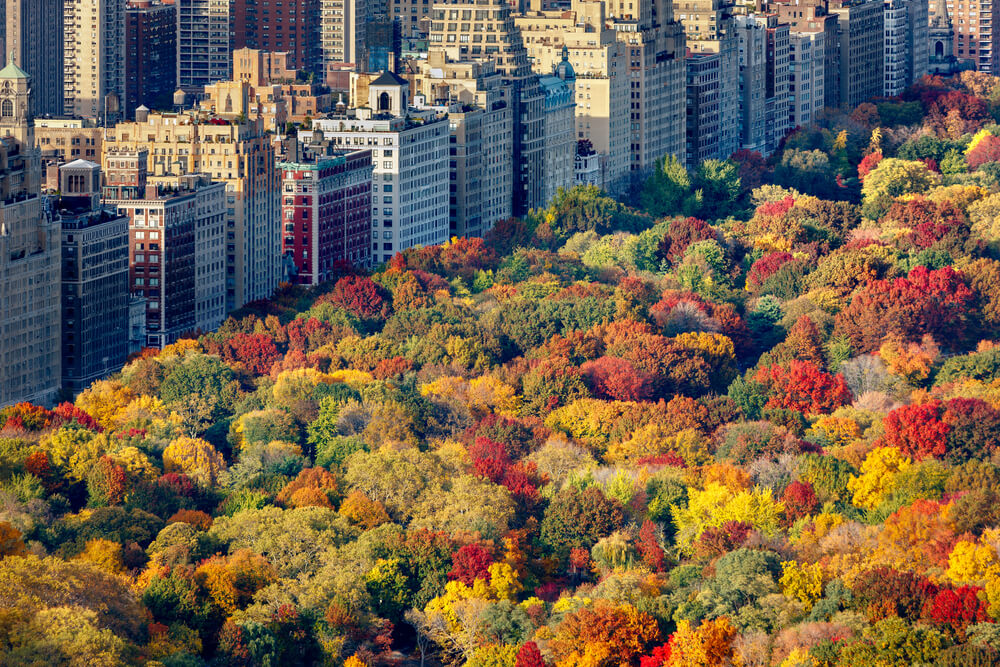 Things to do in Manhattan on Thanksgiving
As we transition into the holiday season, many people in NYC are looking for ways to celebrate Thanksgiving. There are many Thanksgiving activities in Manhattan, but the focal point of the festivities remains the Thanksgiving dinner. Whether you want to watch the Macy's Thanksgiving Day Parade, experience award-winning restaurants in Manhattan that offer an exceptional Thanksgiving dinner or stay home and watch football—our guide will inspire you. We've put together a list of family friendly, outdoor and indoor Thanksgiving activities so that you can take advantage of Thanksgiving Day in New York City.
Macy's Thanksgiving Day Parade
This annual tradition will be held on Thanksgiving Day, Thursday, November 25, 2021 from 9am to 12pm. The parade is the ultimate holiday tradition that showcases spectacular giant balloons, floats, exciting performers and more. Take part in New York's tradition by watching the 95th year of the parade from the streets of NYC or the broadcast on NBC. More information on the parade route here.
Thanksgiving Dinner in the City
New York City offers many delicious dining options for Thanksgiving dinner. Whether you are looking for a gourmet experience or a family friendly option, the city is guaranteed to have something that's just right for you. For a gourmet Thanksgiving meal at home, try Eleven Madison Park, which is offering a take home menu for four. Looking to get out of the house? 2021 Michelin Star Vestry in Soho is offering a three-course Thanksgiving menu from 12pm to 7pm on Thanksgiving Day. Taking the kids with you? Bring the whole family to Bubby's, which will be serving traditional homestyle favorites from 12pm to 9pm. They're also accepting orders for pickup on Thanksgiving Day.
Thanksgiving at Home
After a long morning of watching the parade, many New Yorkers will make their way home to enjoy time with their family and, of course, eat dinner. Football remains a popular at-home activity on Turkey Day. See here, for the full list of NFL games on Thanksgiving Day.
Black Friday in New York City
With full bellies and thankful hearts, New Yorkers will begin venturing out for highly anticipated Black Friday sales. Just make sure you plan ahead so you can take advantage of some of the year's greatest sales. 
Where to Shop on Black Friday in NYC
Bloomingdale's
Get your credit cards ready because the sales start early! Bloomingdales has been a staple of the city since the store was born in the late 1800s. New York's 5th Avenue location will open its doors at 7am on Black Friday and stay open until 10pm.
The Shops at Columbus Circle
The Shops at Columbus Circle is a shopping mall in a skyscraper complex in Manhattan. This upscale shopping mall in New York City will be a one-stop spot for holiday shopping. Be sure to check out their Holiday Under the Stars that features 12, 14-foot stars that hang from the ceiling of the 150-foot Great Room overlooking Central Park.
Macy's Herald Square
While Macy's is closed on Thanksgiving Day, they will open their stores early from 6:00am –11:59pm so you can shop till you drop in one of the world's largest department stores. Macy's Herald Square flagship location can be found at 151 W. 345h Street, New York, NY.
Saks Fifth Avenue  
Saks Fifth Avenue was founded in 1867 and has remained a staple for shopping in New York. Located on 5th Avenue in Midtown Manhattan, go to Sacks for Black Friday deals on designer clothing and more!
Volunteer 
Spend some time on Thanksgiving volunteering. A tradition rooted in coming together is the perfect opportunity to help your fellow New Yorkers who are in need. 
Places to Volunteer this Thanksgiving in NYC: 
WSCAH 2021 7,000 Turkey Challenge
Every November for over 20 years, WSCAH has been providing turkeys and healthy food so that every family can enjoy a Thanksgiving holiday meal together. Their challenge is to deliver 7,000 turkeys to families in need, so WSCAH needs volunteers and support to meet their goal.
New York Cares
New York Cares is the city's largest volunteer network with many ways to make a difference each month. Demand increases around Thanksgiving, so it's the perfect time to volunteer. 
City Harvest 
City Harvest will spend the weeks before Thanksgiving packing bags of produce and Thanksgiving meal staples to deliver to food pantries and soup kitchens around the city. Join their massive Thanksgiving operation to make a difference in your community this year. 
City Meals on Wheels
City Meals on Wheels helps feed and nourish elderly New Yorkers who are homebound. Help their mission and become a volunteer to deliver meals today. Last year they provided 74,453 meals for all the major holidays. 
Food Bank for New York City  
Donate food or volunteer with the Food Bank for New York City this Thanksgiving. Visit them at 39 Broadway, New York, NY 10038 or contact them through their website. 
Be sure to take time to enjoy all that New York City has to offer this Thanksgiving. If you find yourself cleaning your place before your Thanksgiving dinner and need to make extra space in your apartment, contact the premier Manhattan mini storage location— Gotham Mini Storage for a safe and affordable space to store your things until after the holidays.