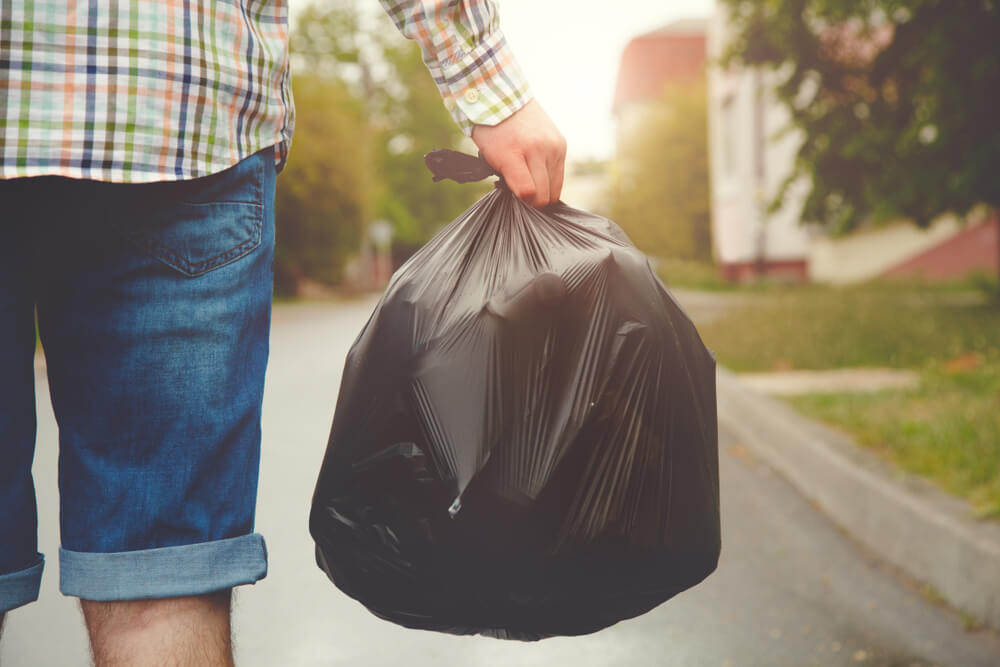 We've all got a junk drawer, junk cupboard, or junk closet. It's okay to admit that. But when spring cleaning doesn't cut it, and the drawer—or door—becomes hard to close, what do we do? Knowing what to do with all our stuff can be overwhelming, sometimes it's easier to jam the door shut and forget about it. But living in NYC leaves space at a premium, so when junk piles up, we need a better solution.
NYC garbage pickup options depend on what you have and how you want to get rid of it. But what about the things we don't want to get rid of? Keep reading to find out how to get your junk under control.
Junk removal NYC
In NYC, there are several options for junk removal and garbage pickup. You can use the services available with the New York City Department of Sanitation (DSNY) or you can hire a junk removal service.
Curbside NYC garbage pickup
In NYC, bulk pickup is freely available via the DSNY for certain items. The DSNY offers a range of free curbside pickup options, either on your regular garbage day or by scheduled appointment. Check your NYC garbage pickup schedule for your regular collection days. Keep in mind that DSNY pickup does have size restrictions, and you must limit garbage to fit an area of 4' x 3'. This option also requires you to do the heavy lifting to get your items onto your curb ahead of collection.
Junk removal services
Hiring a junk removal service for bulk garbage pickup is another option if you can't get your trash to the curb yourself, or if you have a large amount of garbage to get rid of.
When looking for a junk removal service, consider:
Customer reviews: Check for reviews—good and bad—so you know what you're signing up for.
Services offered: Make sure the service is willing to take your specific items ahead of time. This can impact the overall cost and equipment needed to remove the items.
Response times and scheduling: Determine timing for removal, whether you can schedule a pickup, and if you need to be home. Same-day pickup sounds great but usually incurs fees.
Compare pricing: Get quotes from a few providers to make sure you're paying a fair price.
Qualifications: Make sure the company is licensed. Legitimate businesses will have the proper insurance and licensing to protect themselves and you.
Hazardous junk
It's worth noting that the disposal of potentially harmful items must comply with certain regulations. DSNY does not allow hazardous garbage to be included with regular pickup, and many junk removal services will not handle it at all, so be sure to ask. DSNY provides guidelines on how to properly dispose of these items, and even provides free, safe drop-off sites for certain materials throughout the year.
According to DSNY, the following items are considered hazardous waste:
Automotive products
Electronics
Mobile phones
Batteries
Rechargeable batteries
Fluorescent bulbs
Ink and toner cartridges
Unwanted medications
Have items you can't part with? Store them!
Sometimes we get attached to our bulky items, usually because they have sentimental or cash value. Still, you may not want it taking up valuable space in your home. When that's the case, storage is a great option. Oversized items, seasonal gear and keepsakes are perfect items to place into secure storage. Gotham Mini Storage offers units in a range of sizes to suit any budget.
Our units are climate controlled to ensure your belongings are stored with care, with around-the-clock security. Rest easy knowing your stuff is looked after at Gotham. With 24-hour access, Gotham Mini Storage is centrally located on 10th Avenue at 39th Street, so you'll never be far from your belongings. Swing by any time to grab your seasonal gear or décor.
Don't wait for spring to clear out your junk. Whether you want more space in your apartment or need to clear out your attic, a storage unit can be a great option.
Let's Store It
So, you've scheduled your NYC garbage pickup for what you want to get rid of. Now, contact the team at Gotham Mini Storage to get a quote and start freeing up your living space while keeping the rest of your belongings close by.